Very positive QSM Report
Are you considering to improve your business software and do you want to know more about the performance of our unique and innovative Thinkwise development concept in this area? QSM has analyzed data from eight of our completed and representative projects and compared this data with software project from the QSM industry database.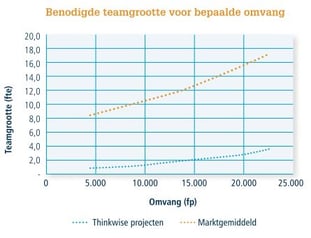 At Thinkwise we are very proud to present you the result of this report. The QSM report shows that we score above market average.
Productivity 5x higher
Quality: MTTD 2,5 - 4,5x longer
Team size is 85% smaller
Process productivitity: at top 35%
What has been measured?
Of course we have looked at all sorts of aspects. QSM has determined the size of the projects in function points and also analyzed the realization data (effort, lead time, quality) and this determined productivity.
Please fill in the form on the right and get the full QSM report. In addition to the general concept of Thinkwises projects you will also find the individual scores of the 8 analyzed projects compared against the market average. Definitely worth reading!