LIVE DEMONSTRATION
Platform Experience
Discover Thinkwise and low-code for core systems during our live Platform Experience on location at our headquarters in Apeldoorn. Our experts will give you a step-by-step demonstration of how you can leverage low-code to achieve the objectives for your IT landscape at lightning speed.

You will get to see the complete process, from modernizing a legacy system, designing an application model to quality control and deployment. We are happy to answer all your questions and will wrap up the session with complimentary drinks.

The live Platform Experience is presented in Dutch at our headquarters in Apeldoorn. Can't attend live? Get in touch with one of our specialists to discuss an alternative!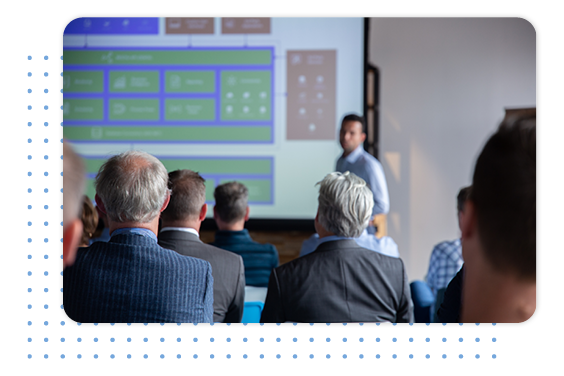 What you can expect from the Platform Experience:
Meet Thinkwise

We'll tell you a bit more about our strategy, focus on core systems and legacy removal and the unique features of our platform.

Demo low-code for enterprise software

You will get a live demonstration of the Thinkwise Platform where we will use the example of modernizing a legacy system to demonstrate the various components of the platform.

We are happy to answer all your questions.

We'd like to fully support your IT strategy. During this experience, you will have plenty of time to ask questions. There is also the opportunity to discuss and network with other IT specialists.
You don't want to miss this opportunity to find out what low-code has to offer for your company!
View the program
10:00 Introduction
Who we are & why we do what we do


Our unique model-driven concept

Productivity and positioning

Insights application demonstration
12:00 Catered lunch
13:00 Platform demonstration
Architecture overview

Modernizing a legacy application

Application model design

Data

UI / UX

Process & System flows




Business Intelligence

Programming business rules

Logic concepts explained




Quality control

Thinkstore

Deployment

Integrations & API management
16:00 Drinks